Until Further Notice
Due to Covid-19 restrictions,
Okie Dokies Smokehouse is currently open only for 
Take-Out/Curbside, Monday – Saturday, 11-7
At Okie Dokies Smokehouse, we are committed to cooking traditional barbecue. We avoid frills and gimmicks so we can focus on the basics, perfectly smoked meat and classic scratch-made sides. Since we use a tried and true smoking process, our BBQ is consistently moist, tender, and always delicious.
Appetizers
Southern Fried Pickles
The dill pickle chips that put Swannanoa on the map! Battered, deep fried, and served with our homemade bbq ranch
$4.99
Jalapeño or Sweet Hushpuppies
A large order of our freshly made signature hot or sweet (regular) pups
$4.99
Brunswick Stew Hearty
Tomato based stew filled with veggies, beans, and smokey pork and chicken
8 OZ $4.49     16 OZ $6.99 *GLUTEN FREE
Chicken Littles
Hand cut, battered, and deep fried tidbits of all white meat.
PLATE WITH TWO SIDES AND HUSHPUPPIES $10.49
BASKET OF JUST LITTLES $7.49
Kids (under 12) Meals
Pulled Pork bbq, Beef bbq or Smoked Chicken or Chicken Littles
INCLUDES DRINK AND ONE SIDE
$5.99
Smokehouse Ribs
Served with one side and hushpuppies
FULL RACK $22.99
HALF RACK $15.99
MINI RACK $10.99
*ADD A SECOND SIDE $2.29
BBQ
BBQ Sandwiches
Served with chips and a topping of red or white slaw on the side
PULLED PORK BBQ $6.49
BEEF BBQ $7.49
SMOKED CHICKEN (BONELESS BREAST) $6.79
SUBSTITUTE FRIES FOR CHIPS $1.99
Smokehouse Plates
Served with your choice of two sides and hushpuppies
PULLED PORK BBQ $9.99
BEEF BBQ $10.99
SMOKED CHICKEN (BONELESS BREAST) $10.49
Big Combo
Your choice of any three different meats* and two sides
$15.99
Little Combo
Your choice of any two different meats* and two sides
$12.99
*meat choices: pork, beef, chicken, ribs
BBQ Sundae
A festival favorite! Pulled Pork bbq, baked beans, and coleslaw-layered yumminess! $7.49 *GLUTEN FREE
Red Wagon
DAILY LUNCH SPECIAL TILL 4:00
Pulled pork bbq sandwich with baked beans, coleslaw, and chips. No substitutions on this one!
$8.99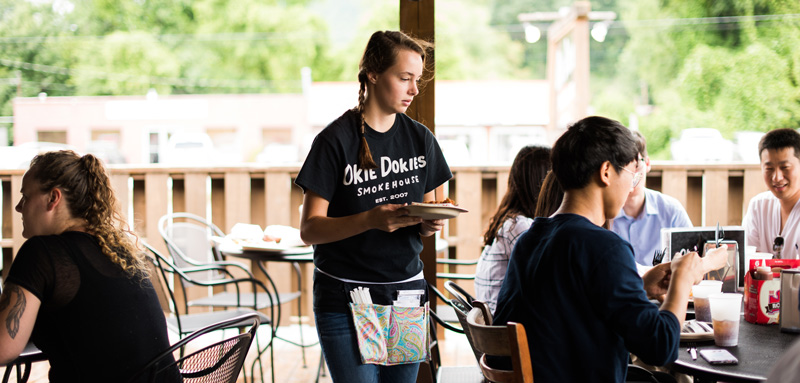 Smothered Potato Plate
A large serving of our popular buttered new potatoes topped with shredded cheddar cheese, sour cream, and butter
$4.99
TOP IT OFF WITH PULLED PORK BBQ, BEEF BBQ, OR SMOKED CHICKEN (BONELESS BREAST) $8.99
Veggie Plate
Four sides of your choice served with hushpuppies
$8.99
Side of Meat 1/4 lb portion
PULLED PORK BBQ $3.99
BEEF BBQ $4.49
SMOKED CHICKEN (BONELESS BREAST) $4.29
Sides
Baked Beans
White Slaw
BBQ (Red) Slaw
Collard Greens
Cheese Grits
Hushpuppies
French Fries
Potato Salad
Fried Okra
Black-Eyed Peas
Mac-n-Cheese
New Potatoes
$2.79
Drinks
Fresh brewed Sweet or Unsweet tea
Lemonade
Coke
Diet Coke
Sprite
Mr. Pibb
Mellow Yellow
bottled IBC Root Beer
$2.49
Beer on Tap
Ask your server for the current selection of craft beers
$3.99
Double Fudge Brownies
$3.49
You can even order take out right from our menu, too!
Just call us with your order and we'll have it ready for you when you arrive!
TAKE OUT: 828-686-0050