Indoor Dining, Outdoor Dining and Take-Out
Tuesday -Thursday  11-4
Friday- Saturday 11-7
Click Here for Online Ordering
For over 20 years, Okie Dokies Smokehouse founder Steve Dunning has been involved in the business of barbeque. Beginning in 1996, he broke into the business by managing a local family owned BBQ restaurant. A couple years later, under the guidance of that same restaurant owner, he began serving bbq out of his own food truck, "The Red Wagon." After years of building a roadside reputation for consistently moist, tender and always delicious bbq, the business outgrew the food truck and Okie Dokies Smokehouse opened their doors in 2007.
Since then, Okie Dokies has had an incredible team of employees to help develop, shape and build the restaurant into what it is today. Okie Dokies has become known for serving up the finest, award-winning barbecue, using house-made dry rubs with their own unique smoking process that captures the best of the meat's natural flavors.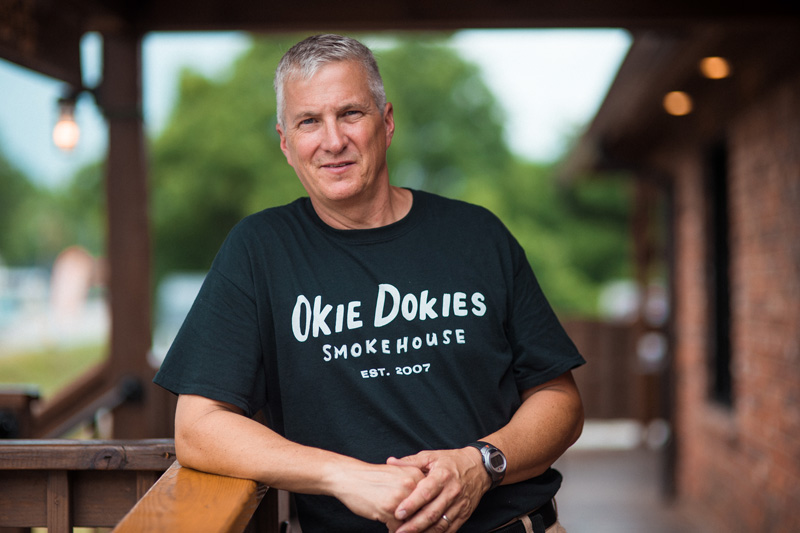 The Dunnings
The barbeque journey started for Okie Dokies' founder Steve Dunning as a kid growing up watching his grandfather "Smiley" smoking whole chickens over an open charcoal pit at family gatherings.  At that time, he never dreamed he would later make a life revolving around a bbq pit, but that's exactly what happened.
The start of the business coincides with the beginning of the Dunning family. Steve and his wife, Jody, had their first date the night before he took the "Red Wagon" out for the first time. She worked alongside him to get the truck ready for its premiere. They married one year later and now have three children who are excited to carry on the barbeque tradition.